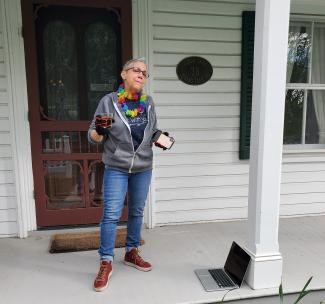 It is with such a mix of emotions that we write this announcement . . . joy, excitement, humility, pride and even a little sadness.  It is our hope that you will take a moment, as we are, to reflect on the impact and impression that Susan Simon has made in our lives as today, April 20, 2021, she is "officially" donning her retirement hat!
Over the past year, our firm has been making arrangements, talking through the process, the feelings, the concerns and preparing, as much as possible, to welcome this day and share it with you. 
Before we move forward and look to the future, we want to celebrate, with you, the past.
Susan has worked in finance since 1998 when she was Finance Manager of the Wisdom Division of Landmark Education Corporation. She spent five years as a Financial and Insurance Advisor at an independent NYC-based financial advisory firm and then, in 2005, with her wife Beth, established Third Eye Associates, Ltd.  Over the years, Susan has honed her skills and, by combining the practicality and certainty of numbers with the esthetic discipline she acquired while studying art, has a comprehensive and unique philosophy about people and finances.
Susan has completed the course of study for the CERTIFIED FINANCIAL PLANNER™ certification, is a Registered Financial Consultant (RFC®) and a Registered Life Planner (RLP®). Additionally, Susan is an Investment Adviser Representative of Third Eye Associates, Ltd., is certified in Long-Term Care (CLTC) and is a Notary Public. Clearly, Susan values education and the ability that her studies have given her to positively impact the lives of others. 
Susan's accomplishments in her professional life, while impressive, are not what make her truly exceptional.  As we reflect on her work over the years with Third Eye Associates, our clients, our team and her partners, one theme shouts from the rooftops – Joie de vivre!
Joie de vivre
is a French phrase often used in English to express a cheerful enjoyment of life,
an exultation of spirit.
It can be a joy of conversation, joy of eating, joy of anything one might do…
and joie de vivre may be seen as a joy of everything, a comprehensive joy, a philosophy of life.
We cannot think of another word or phrase that more aptly describes Susan and believe that anyone who has had the pleasure of knowing or working with her would agree!
Looking forward, Susan is excited about the next chapter of her life and wanted to be sure that you, as a friend and client, got to peek into some of what she will be spending her time doing.
Susan will continue to support our community through her various commitments on Town of Red Hook Ethics Board, Red Hook Zoning Review Committee and the Rotary Foundation.
As for fun, Susan loves to dance and is a member of dance performance troupes "Chester's Cool Cats & Kittens" and "The Sunhoppers". She also DJs for various dances throughout the Hudson Valley. 
Susan has two adult daughters and four grandsons who she absolutely adores!  Beth and Susan share a Hudson Valley home in Red Hook, New York and are pretty good Lindy Hoppers!
In looking forward, Susan is excited to serve on the Rotary District 7210 Youth Exchange Committee, which coordinates exchange students and families for their year abroad and implements programs for local youth. Additionally, she plans to Lindy Hop more often, DJ more gigs, and most importantly, spend time with her grandsons!
In her "spare" time, Susan will continue to manage the finances of Third Eye Associates. We, probably like you, cannot imagine Third Eye Associates, void of the joie de vivre that Susan brings to our world.
Please join us as we celebrate Susan for her impact on our lives, the lasting impression she makes on so many and for the amazing Life Plan she will continue to enjoy during her retirement.
Third Eye Associates congratulates and honors our founding partner, Susan Simon, for an accomplished career and a future full of so much more!